European festivals are a summer essential for music lovers across the world. Here's a list of what not to miss in Summer 2018.
All Points East
Where? London, England
When? 25th May – 3rd June 2018
This 10-day extravaganza has something for everyone: a 3-day music festival, 3 massive headline shows, and even community focused entertainment during the week. Previously home to various festivals throughout summer, trendy Victoria Park will now exclusively host this jampacked festi run by the organizers of Coachella. So far the festival lineup includes LCD Soundsystem, Lorde, Sampha and Björk and the 10-day stint rounds off with musical icons Nick Cave & The Bad Seeds and Patti Smith. Don't miss out on making history at East London's newest arrival.
Nos Primavera Sound
Where? Porto, Portugal
When? 7th- 9th June 2018
Cheaper and more chilled than its sister festival in Barcelona, Nos Primavera Sound is the perfect way to spend a weekend in the best city in Portugal. On the coast, the city has phenomenal food and beautiful sights. If the impressive line-ups haven't got you on board, the festival's sizeable food market is enough to make anyone salivate. Nos Primavera is made for easy-going fun: affordable flights and accommodation in city, as well as dedicated bus links to the lush green park where the festival takes place. The only thing difficult thing is saying no.
Nos Primavera Sound in Porto, Portugal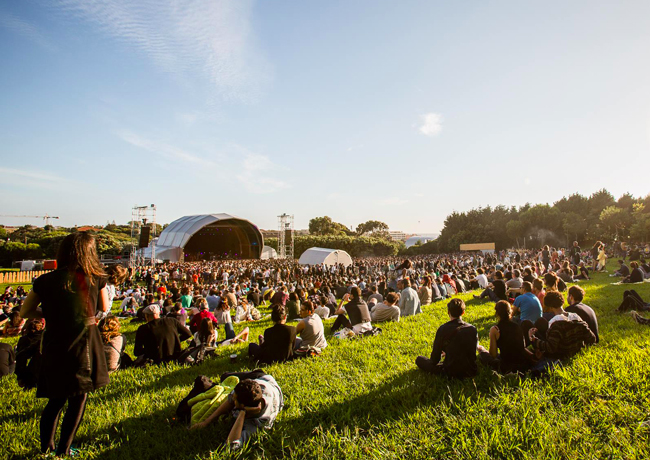 Cred: www.festicket.com/festivals/nos-primavera-sound/2018/packages/
Melt! Festival
Where? Ferropolis, Germany
When? 3rd – 5th July 2018
Ferropolis, 'The City of Iron', on the banks of Lake Gremmin provides a festival setting like no other. You'll be dancing between the huge disused industrial machines and listening to the best names on the festival circuit before you watch the sunrise over the lake and its guardian steel giants. With an eclectic lineup every year, 2018 sees The XX as Melt's headline act. They first played there in 2010, now world famous they are returning to the tantalizing festival. Get cheap flights to Berlin and get ready for an unforgettable weekend.
Melt! Festival l Cred: www.festicket.com/festivals/melt-festival/2016/
Sziget Festival
Where? Hajógyári Island, Budapest, Hungary
When? 8th - 15th August 2018
'Join the love revolution on the Island of freedom.' You heard it. For 25 years Sziget has been bringing together people from across the globe to embrace diversity and have a cracking time doing it. Last year's lineup included Kasabian, Major Lazer, Wiz Khalifa and Macklemore, but the weeklong festival incorporates, art, theatre, circus and spirituality too. On top of that, there's a wide range of camping options, including VIP and eco. Become a 'Szitizen' and party in the sunshine on the Danube.
Dimensions Festival
Where? Pula, Croatia
When? 30th August – 2nd September 2018
If you're looking to round off the summer in Europe with a weekend of soulful electronic music on the beautiful Croatian coastline, Dimensions is your go-to. The abandoned Punto Christo Fort hosts the festival's 7 stages playing house, techno, world, disco and dubstep. Just don't forget the boat parties in the daytime too. Camping and hostel accommodation is available through the website and you can even pay for the ticket in monthly installments. Or you can stay in the historical city of Pula if dancing through the night in the fort's old moat and amphitheater haven't given you your fill of European history.
Amphitheatre Arena at Dimensions Festival
Cred: www.danmedhurst.com
Want to get the chance to learn about a new culture and live in the heart of a thriving European city? Study Abroad Apartments offers some great options for students planning to live abroad. Just get in touch with us if you need any help finding somewhere to stay and we'll make sure you have one of the best options out there!