Every year study abroad students come to Europe from all over the world in hopes of gaining an education and expanding their world view. Have you traveled around Europe before? It is easy to see several countries during a semester abroad. Since most students are on a tight budget, traveling must be done frugally. The public transportation in Europe is very accessible and allows students to travel around with low costs.
Once you find your dream apartment abroad with Study Abroad Apartments, it is time to start planning where you will travel during your stay. Long weekends are typically the time where students take advantage of easy travel options.
Flying-
Compared to the vast landmass of North America, European countries are closer together in proximity. Budget airlines such as Vueling and Ryan Air offer very reasonable prices for round trip flights to popular tourist spots. If you study abroad in the spring or fall, these seasons have much lower prices than the busy summer season. Be aware that flight tickets might be cheap but these airlines will nickel and dime you for extra luggage, beverages and checking in to your flight late. Read their policies carefully before you make a mistake that could cost you 50 euros or more! Websites like Skyscanner.net or Trabber.com are good tools to use when searching for flights and keep in mind Tuesdays, Wednesdays and Saturdays are often the cheapest days to fly.
Taking the Train-
The train system in Europe can take you almost anywhere. Although this option will take longer than flying, you will save money and be able to see more of the countryside. The other advantage is most trains take you right into the heart of the city, whereas airports are often at least thirty minutes outside city centers. Make sure you book tickets in advance and asses the best options for your journey as continuous rides or flexible voyages are usually offered. Trains also do not have a weight limit for luggage so there is no extra fee if you have a few too many pairs of shoes packed!
Bussing-
Go Euro offers cheap overnight bus rides but also shows you options for flights and train rides. Bussing is usually the cheapest option but may take the longest or be most uncomfortable. Bathrooms are limited on bus rides but they usually makes several stops along the way if the ride is more than 3 hours.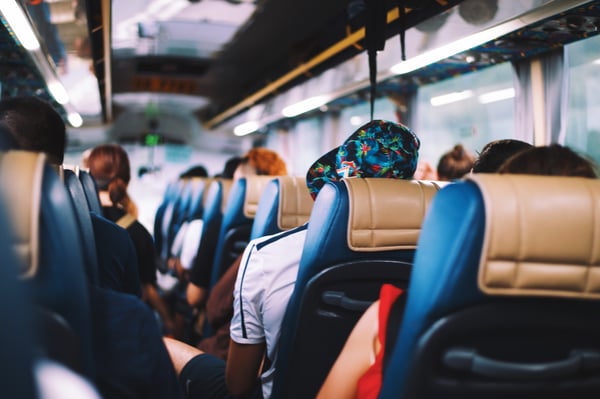 Asses the distance you want to travel and the time it will take to decide which travel option is going to be best for you… and don't forget your neck pillow for those long rides!
Are you about to embark on the trip of a lifetime? Study Abroad Apartments offers some great options for students planning to study abroad. Just get in touch with us if you need any help finding somewhere to stay and we'll make sure you have one of the best options out there!