Barcelona, capital of the Catalonia region in Spain, is a sea-breeze caressed city right by the Mediterranean, within arms reach of many other places in Europe. Once you are settled in, which will happen fast and smoothly if you have booked your accommodation through Study Abroad Apartments, you might start looking around for any feasible day trips. If you are into sports, photography or simply nature and outdoors, you are in the right place for many amazing one-day hikes just close by, with its varied landscapes, many mountain ranges, coastal routes, and well-marked trails. Keep reading!
Garraf
Garraf is a mountain range just south of Barcelona, right by the coastline. It forms a natural park, with protected fauna and flora, with many hiking routes, cliffs, small hidden beaches, coves, and some interesting peaks that will grant you a very scenic view of the whole area, such as La Morella, Cal Ganxo, Turó del Fanxo or Puig Agulles. Hikes are generally not high difficulty. You can start some routes in Sitges, which is a nice town you can reach by train, or in Castelldefels.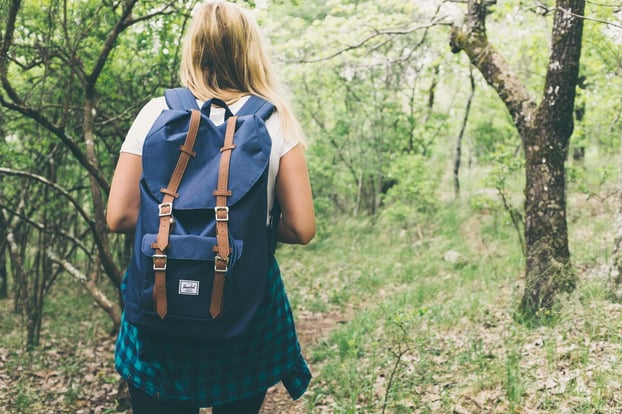 Montserrat
A classic, and perhaps Catalunya's most iconic mountain range, Montserrat will surprise you from far away as well as close-up. The word means 'serrated mountain', and its rocky sky-high peaks attract thousands of tourists, hikers and rock climbers. Although there is a monastery by the top that is worth visiting, you'll want to also pass by and try any of the routes around Montserrat in order to find the best breathtaking views. Monsterrat has many footpaths and trails, ranging from easy to very difficult. Some of those trails are wide and well-paved, so you'll see families with children there. The easiest route is from the monastery to Degotalls, but all of them have signs you can follow.
Collserola
Collserola is a nice mountain range and natural park that spans 20,000 acres of evergreen pine and oak forest and is considered, as part of Barcelona, one of the largest urban parks in the whole world. Most hiking trails start right where public transportation stops, and just one short ride away from any place in the city. Its many routes are a relaxing getaway from the thriving city: don't miss Barcelona to Sant Cugat (GR6) trail, or Vallvidrera to La Floresta which includes a stop by a reservoir. You can also drop by Tibidabo, near the old-fashioned theme park located right here, which will present you with awesome panoramic shots of Barcelona and the sea that you'll never forget.
Are you about to embark on the trip of a lifetime? Study Abroad Apartments offers some great options for students planning to study abroad. Just get in touch with us if you need any help finding somewhere to stay and we'll make sure you have one of the best options out there!