Summer is wonderful in Europe: as the weather improves, people throw themselves outdoors and enjoy the sunlight as well as a myriad of activities, festivals, street markets, live music and treats. True foodies particularly enjoy this time in the old continent, as any top country or destination is bound to home (at least!) one of the most diverse and delicious summer food festival of the many that are organized yearly in Europe. Take a break from studying in your flat booked through Study Abroad Apartments and go check them out.
Whether you are staying during summer, or you will just catch a part of it at the beginning or the end of your time studying abroad, you must discover the core of those countries' culture by biting on their finest foods by attending a showcase and celebrating a cuisine packed with tastes you'll never forget. Here's our top picks:
Italy: Streeat, itinerant food festival
Streeat starts a bit early, usually by april, and it happens across Italy. That's where the fun part starts: this is an itinerant festival, meaning it moves around several towns. The food trucks and beer trucks travel around italy to spread the foodtruck culture. Dozens of them spend more than two months on the road to offer their best specialities, from pizza to gelato, biological italian wine, meat and seafood. They don't spend more than three days in the same place, so it's best to check the schedule in their official website and plan where and when it's more convenient for you to join.
Spain: Cook & Travel Festival
Spain is home to many food festivals, most of them along summer. Cook & Travel takes place in Barcelona, by mid-may, and it's focused on nomad foodies. As it welcomes chefs from all over the world, it showcases local cuisine as well as creative fusion treats. It's a young festival, but it's making a statement.
Spain: International Paella Competition
There is a worldwide competition on who can cook the best paella, and it spans several countries (from Japan to Peru) as chefs battle it out to the grand final, which happens in Sueca, near Valencia (where paella was first originated) by the first or second week of September. The festival gathers thousands of people every year and will celebrate its 58th edition in 2018.
Netherlands: Taste of Amsterdam
Taste of Amsterdam festival takes place in june, just as summer gets started, and turns a full urban park into one huge restaurant. Amstelpark in Amsterdam, capital of the Netherlands, gathers dutch chefs and restaurants from all over the country, as well as foodtrucks, market stalls, music and threatre activities… all of it to make it an all-around great experience
Bonus track: 'Taste of' festivals happen also in Dublin (Ireland) and London (United Kingdom), and they are all as worth visiting as Amsterdam's.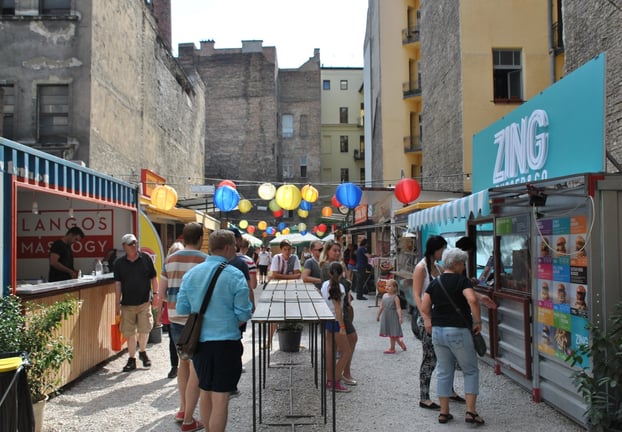 Czech Republic: Prague Food Festival
The annual Prague Food Festival gathers the best Czech chefs and food lovers by an iconic location, under the trees of the Royal Gardens at Prague Castle. Visiting the castle alone is already worth the price of admission, so consider this a sweet extra: being able to sample the best food this country has to offer by that beautiful setting.
Are you about to embark on the trip of a lifetime? Study Abroad Apartments offers some great options for students planning to study abroad. Just get in touch with us if you need any help finding somewhere to stay and we'll make sure you have one of the best options out there!