The ancient and enchanting city has lots to offer history-buffs, art and architect fans, coffee-culture guzzlers and foodie fanatics. Here are a few wee tips for bonnie meals in Scotland's capital.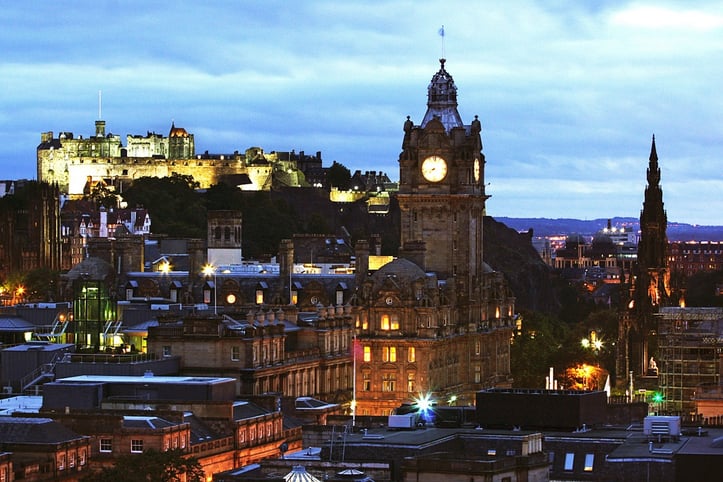 The Outsider, 15-16 George IV Bridge, EH1 1EE.
The lunch menu at this Edinburgh institution should not be taken lightly. The best seasonal, Scottish ingredients in exquisitely made dishes, every day, all under £8 (including a steak sandwich!). Even the bread is worth ordering - 2 hunks of warm fresh bread and a pesto dipping oil. The restaurant has a black facade and is barely discernible from the busy George IV Bridge, except for its handwritten blackboard menu attached to the railings. Yet it boasts a stunning view of the castle and is always bustling with guests - worth booking to avoid disappointment.
It's sister restaurant in Bruntsfield, The Apartment (7-13 Barclay Place EH10 4HW), offers a similarly fantastic deal in the evenings from Sunday to Thursday: £12 for two courses, £15 for three.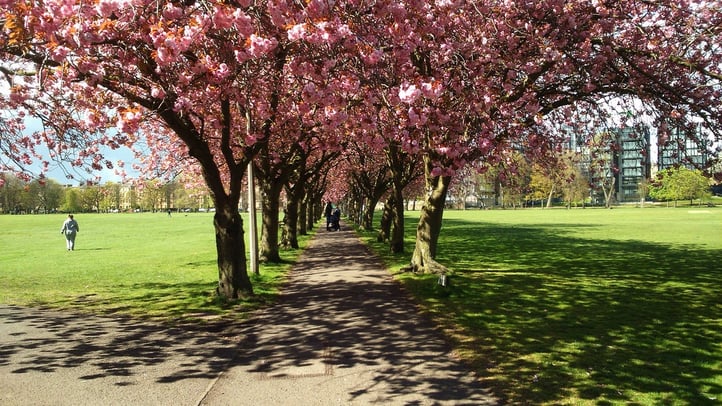 The Meadows, Edinburgh.
Tupiniquim, Green Police Box, Lauriston Place, EH3 9AU.
An Edinburgh must-eat. Based in an old police box at the top of the quarter mile, the stand serves up phenomenal Brazilian crepes jam-packed with delicious and hearty ingredients. The crepe batter is made with oat flour so they're gluten free too! Sometimes you will even see one of the owners cycle ingredients through the city on his bicycle and cart. The 'Pumpkin a la Papai' (spiced sweet potato, mozzarella, spinach, avocado, sundried tomatoes) will warm you to your bones after a little wait in the well-deserved queue. 'Release-the-chicken' is also a favourite. If you're still hungry, wander 2 minutes down Middle Meadow Walk to Peter's Yard and bag yourself a raspberry vanilla bun or a Swedish chocolate brownie in the stylish Scandi café.
Stockbridge Market, Saunders Street, EH3 6TQ.
What better way to spend a Sunday than eating fine food and drinking good coffee, before a walk along the beautiful Waters of Leith. Stockbridge Market pitches up every Sunday in Edinburgh's charming suburb, 10am-5pm. The local cheesemonger I.J. Mellis' cheddar toasties are worryingly good and it is hard to say no to Harajuku Kitchen's gyoza. The high street is home to plenty of thrift-stores and quirky independent shops (Coaba is a gem) so there are lots to keep you entertained before a coffee at Artisan Roast.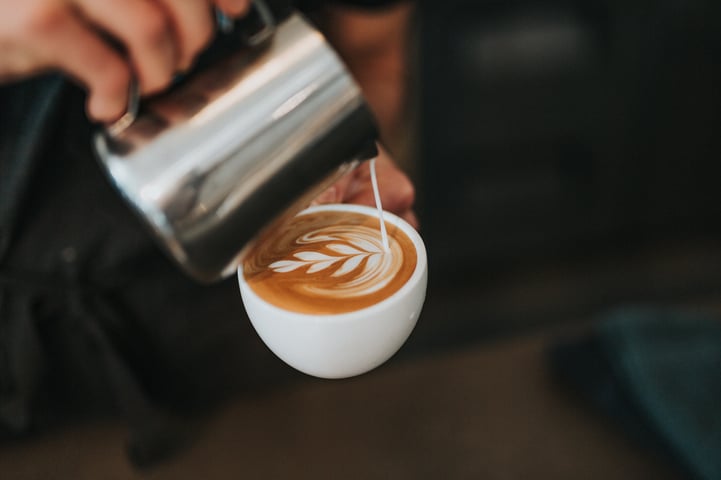 Artisan Roast, Raeburn Street.
Ting Thai Caravan, Teviot Place, EH1 2RA.
This canteen style restaurant is known for its tasty Thai dishes and its reduced 'sun up' prices (11.30-18.30). Most noodle and rice dishes cost only £6. The massaman shellfish curry with crispy noodles is a sight to behold and a delight for the senses. Caravan is in Edinburgh's Old Town and opposite the University of Edinburgh's Old Medical School, making it a popular spot for students and a good stop-off after visiting the beautiful university campus or visiting Greyfriars Bobby.
Salt Cafe, 54-56 Morningside Road, EH10 4BZ.
Brunch at Salt Cafe, Morningside Road. @fizzjamesphoto.
On the south-west corner of The Meadows, Bruntsfield is a treasure-trove of good food no matter what you're looking for. Salt Cafe is a small, bright, family-run café serving the best brunch in the area - do not underestimate the eggs florentine! Just 5 minutes down the road, the famous Chocolate Tree sells dreamy hot chocolate and bars you can take home as a memento of your food-filled trip!
Want to get the chance to learn about a new culture and live in the heart of a thriving European city? Study Abroad Apartments offers some great options for students planning to live abroad. Just get in touch with us if you need any help finding somewhere to stay and we'll make sure you have one of the best options out there!