You know what Munich's Oktoberfest 2017 is. The world's biggest beer festival featuring the world's tastiest beer (served by the litre), accompanied with hearty German cuisine, carnival rides that rival a beer-soaked Disneyland, and vast beer halls where German oompah bands encourage more than 6,000,000 like-minded party animals from every corner of the world to dance on tables and make best friends for life.
Every Oktoberfest, Stoke Travel hosts more partiers than anyone else in Munich. Thousands upon thousands of likeminded individuals from all over the world enjoy our all inclusive packages, including pre-erected tents with mattresses and sleeping bags, a tasty breakfast each morning and a hearty and wholesome dinner each evening; awesome guides who will show you how to get to – and experience – the Oktoberfest beer halls, not to mention our world-famous Stoketoberfest party, the biggest event outside the beer halls, fuelled by our legendary €10 a day open beer-and-sangria bar. This is a beer-fuelled paradise on Earth.
You can check how it looks like on their Youtube page.
https://www.youtube.com/watch?v=MfBsG1e96Ps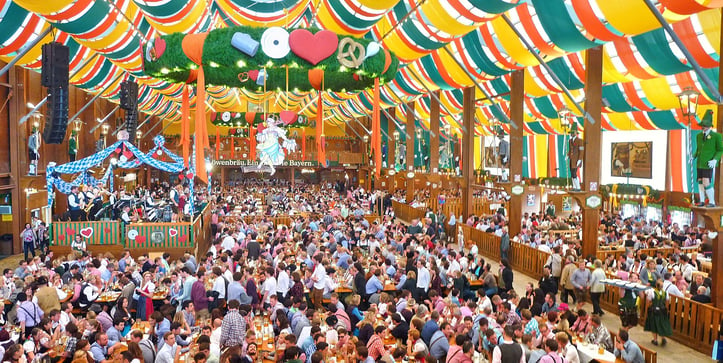 Ein Prosit is German for "cheers", something you'll be doing often at a beer drinking festival. Oktoberfest is Germany's unashamedly boozy beer festival filled with all the stereotypes that you expect of it, including:
Happy, merry, often beerbelly-sporting, Munich locals, young and old, families and groups of friends and coworkers, singing, cheersing, drinking, dancing and eating together. They love the Oktoberfest, and they don't mind having us along for the party. Join them on their tables and let the good times flow.

Buxom Bavarian babes wearing low-cut dirndls carrying stacks of litre beer glasses at a time, we've seen them carry 15 at a time! With a smile. Make sure you tip them.

Red-faced oompah bands blasting singalong drinking songs, encouraging the crowd to

PROST

and drink more, while the assembled sea of revellers squeeze and grind their way onto the dancing tables. They play the same songs every day, but gee they're great songs.

Glaze eyed, beyond happy tourists clinking glasses with equally stoked locals, arms over shoulders, slurring confirmations of their newly forged drunken best-friendships.

Full-time kitchens churning out constant streams of perfectly seasoned chickens, gravy-drenched pork, steering wheel sized pretzels, and radishes (radishes?) with the efficiency of a fast-food drive through, but at a quality that would put even the most culinary of grandmas to shame.

The beer. The beer is everything you've imagined it to be and then some

– delicious amber ale served crisp and cold, free from all artificial products and preservatives and served by the litre. And trust us, after one litre even the darkest of moods will be transformed into a fuzzy kaleidoscope of good times

–

after your second you'll be the best singer and dancer the beer halls have ever seen. Whatever happens after that is anybody's guess.

And that's just inside the beer halls! Outside these hallowed halls awaits a magical wonderland of skipping and stumbling families and singles, eating and drinking and playing carnival games and testing their stomach on wild rides as impressive as those in any of the world's theme parks.
It is all this that makes Oktoberfest a party that should sit at the top of your bucket/to-do lists. This is one festival that everyone, even the teetotallers, should do at least once in their lives. And when they do, they should be with Stoke Travel, because nobody has as much Oktoberfest fun as us.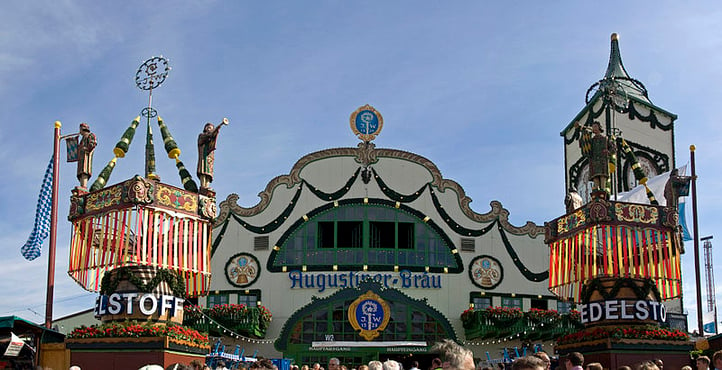 WHAT IS STOKETOBERFEST?
Located in Munich's Obermenzing neighbourhood, Stoketoberfest is Stoke Travel's Oktoberfest destination and by far our biggest event of the year. Stoketoberfest is Munich's only all-inclusive accommodation option, Oktoberfest's biggest party outside of the beer halls, a temporary home for more international partiers than anywhere else in Munich, a safe space where you are free to be whoever you want to be and do whatever you want to do, the meeting place for all of your new best friends, the place where our chefs line your stomach before and after a big day in the beer halls and the wildest dancefloor this side of Ibiza.
Stoketoberfest is Stoke Travel's biggest event of the festival season, a place where we can entertain, accommodate, feed, serve beer to, dance with, dress in lederhosen and dirndls, and, above all, get to know more than 2500 individuals on any given night, from 40-something countries and all walks of life, representing anyone from 18-years-old to their grandmothers (who come for free).
The camping accommodation includes pre-erected tents, sleeping bags and inflatable mattresses. That's every tent for everybody at no extra charge. If you want to sleep in a little luxury, then maybe our Glamping options are for you, with plenty of space and more comfortable beds, electricity and other creature comforts. Beyond the rows of tents Stoketoberfest's kitchen churns out cooked breakfasts and dinners every day for everybody, the Stoke stage featuring DJs and bands and our very own radio show (you're the star!), the Stoke Spinning Wheel offers you the chance to swap underwear with a stranger, drink out of your shoe, or win a free trip and all the Stokies, whether staff or traveller, there waiting to knock you over with a travelling story, listen to your tales of drunken misadventure from the previous day's partying or get you prepped for another big one in the beer halls. All of this, and more, is included in every Stoke Travel Oktoberfest stay.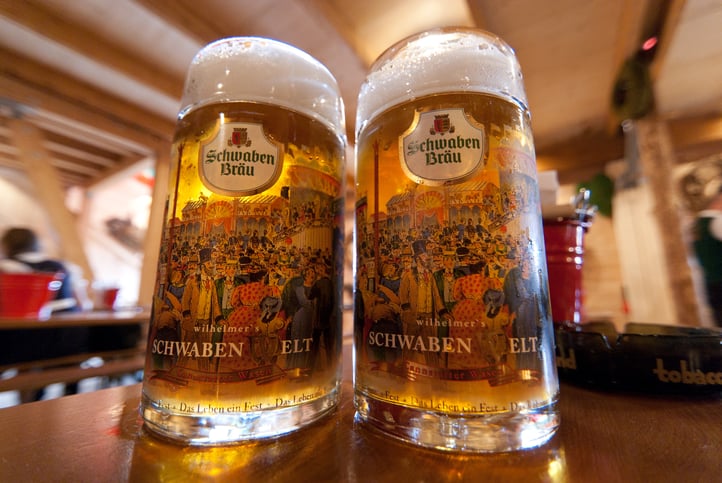 Then there's the bar, the open bar, the all-you-can-drink* beer and sangria bar that does demand a €10 a day surcharge, but will promise all the liquid confidence and social lubricant that any aspiring Oktoberfest legend could ever need. If beer is the last thing you're thinking of at this very moment, the onsite coffee cart might be more up your alley, or perhaps you'd like to try on some traditional German Oktoberfest outfits from their very own store, where you'll find something for everyone at a price that's cheaper than in town.
And that's just a taste of what's on offer at Stoketoberfest. Every year we come up with new and crazy ways to make our little corner of Munich more pleasurable for travellers. They really pride themselves on creating the funnest environment away from the official party and then filling it with absolute legends like yourself. Want to know what they've got planned for this year? Well you'll have to book Oktoberfest 2017 and come and see for yourself.
* During opening hours and within reason. You can shower in it, but we can't serve you if you've forgotten your own name.
Join Stoke with Study Apartment promo code for as long as you want from September 14th to October 4th. They'll be waiting for you in Munich, or take advantage of their London-Oktoberfest party train, or their private round-trip coaches from Barcelona, Paris, Amsterdam, Prague, Budapest, and Italy.