We've compiled a list of alternative spaces for studying in central London, so that you can learn whilst you London.

Studying abroad is as much about discovering a new city and culture as it is about making the most of the academic opportunities there. There's less pressure on your grades yet lots to see and do. If you have to get some studying done, why not combine it with a quintessentially London location and make an outing of it! All locations offer free wifi and Study Abroad Apartments have listings nearby.
The Wellcome Collection, Euston Road
The Wellcome Collection holds exhibitions all year round and also has a cafe, library and reading room. Take a break and look around the Medicine Now exhibition or the permanent collection. The reading room has giant bean bags perfect for lying back with a book on the enormous staircase - refresh your mind by wandering around the wacky exhibition pieces between chapters. If you need to ramp up the reading rate, there is a serene library upstairs with dappled views of Bloomsbury rooftops and dark wood shelving.
The reading room at The Wellcome Collection
Timberyard, Seven Dials
Timberyard is a coworking space 'powered by purchases' - luckily it has award winning coffee and delicious lunch and snacks too. Comfy chairs and fellow co-workers make this an easy space to settle in for a 'hard day's work'. Situated in Covent Garden, there is plenty to keep you amused when the hard work's done - bars, shops, restaurants, musicals, you name it. There is also a branch in Shoreditch.
Timberyard, Seven Dials
Fernandez and Wells, Somerset House
Nestled in the East Wing of Somerset House, the stylish canteen-style cafe is a place for exceptional nosh and views of the fairytale fountain courtyard. It's open 8am-11pm, so an afterwork tipple is just as tempting as studying in the high-ceilinged room in the morning. In winter there is an ice-rink in the courtyard and in summer there is an open-air cinema. Or simply treat yourself to the delectable pear-walnut cake and take a walk along the Thames.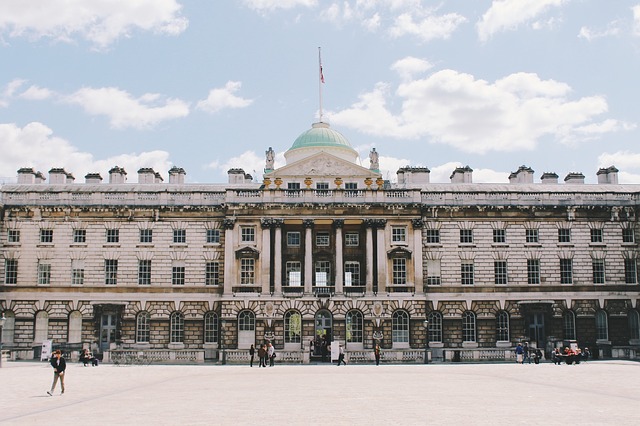 Fountain courtyard, Somerset House
Yumchaa, Camden
Once the pet shop where Winston Churchill bought his cat, Yumchaa still bears the listed front of Palmer's Pets. Nowadays you can snuggle down in an armchair with a cup of coffee or tea from their enormous selection (Regent's Park tea recommended!). The cafe is light and open, perfect for finishing that assignment at a reclaimed-wood table before a spot of lunch. Homemade sandwiches, salads and treats available everyday.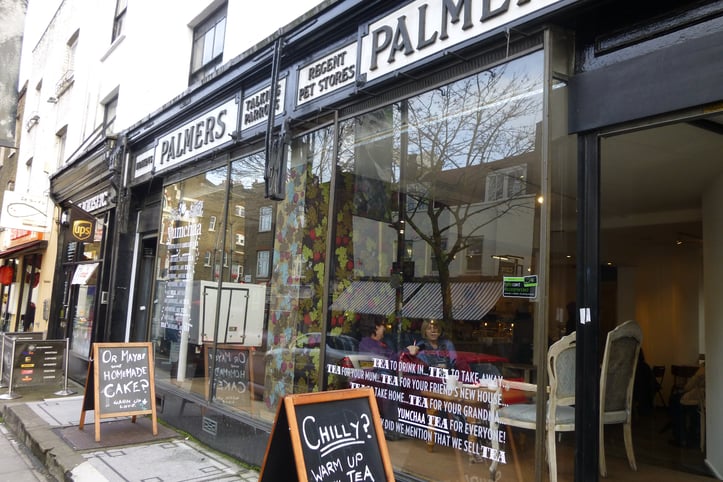 Yumchaa, Camden
National Theatre, South Bank
Right on the south bank, there are few places in London you'll feel more in the thick of it. The Dorfman foyer has quiet tables and floor to ceiling windows right on the river, so you can watch London sail by as you work. You're allowed to bring your own lunch but the Dorfman café and the Espresso Bar are also on site if you need a pick-me-up. Doors open at 9.30am and £15 tickets go on sale at the same time for performances that evening, so you can finish off your day with a theatre show too! Ooh la-la.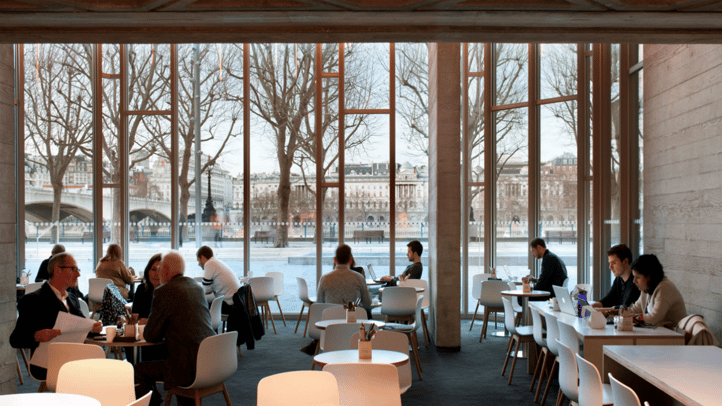 Dorfman Foyer, National Theatre
Want to get the chance to learn about a new culture and live in the heart of a thriving European city? Study Abroad Apartments offers some great options for students planning to live abroad. Just get in touch with us if you need any help finding somewhere to stay and we'll make sure you have one of the best options out there!