Barcelona is a lively city superbly equipped to keep you busy and entertained at all times. Getting away is hard. However, if there comes a time you want to escape from the hustle and bustle of crowded Ramblas, it's not hard to sneak out for a little one-day adventure.
In fact, Barcelona's surroundings are as vibrant as the city itself. There is much to discover and enjoy no matter whether you head west or east of the city. To save you some time, we've curated for you some of the best day trips around Barcelona to enrich your study abroad experience.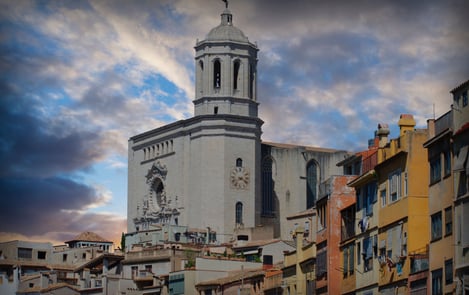 1. Girona
Even though it's quite an obvious choice, we Girona couldn't miss on our list. Just an hour away (or 35 minutes if you use the new high-speed AVE rail service), this historic Catalan city is built upon a junction of three rivers and wrapped in ancient Roman walls. As if that wasn't cool enough, the city and its surroundings were used in the recent filming of Game of Thrones.
Anyway, if you walk along the walls, you will be able to make a complete circuit around Girona and enjoy some lovely views of its many rooftops. Regarding sightseeing, don't miss out on visiting Girona Cathedral, built in a mix of the Gothic and Romanesque style of architecture as well as the 800 year-old Arab Baths.
Besides all the history and culture, Girona is also a perfect place to indulge in some earthly pleasures with its many exquisite restaurants, bars, and nightclubs.
Tip: Visit the city during Temps de Flor which is an annual flower event in the Girona's Barri Vell neighborhood. During this time the city is covered with flowers and spectacular floral displays.
2. Montserrat
Montserrat is one of the most popular Barcelona day trips. As the rugged edges of this rocky mountain top rise high into the sky, you can imagine why it's been aptly named the 'Serrated Mountain'. It's only around 1 hour by train from the city center and provides a very peaceful, spiritual escape. Nestled among the steep rocks, there hides a Benedictine Monastery, Santa Maria de Montserrat, and is home to the famous Black Madonna (La Moreneta) as well as one of the best Georgian children's choirs in the world. They perform twice a day (1 pm and 6:45 pm) every day in the Basilica of Montserrat. It's an experience to remember!
The fact that the only way to and from the mountain is an old cable car or the Cremallera Funicular makes the place even more appealing. Once up there, there is an option to take two other funiculars. Sant Joan funicular will take you further up for excellent views and to the start of the many trails you can hike in the natural park. The Santa Cova Funicular will bring you to an ancient holy grotto where, according to legend, the image of Mare de Deu de Montserrat (the Virgin Mary) was seen by local shepherds. We recommend taking the cable car at least once (up or down from the mountain) even though it's a bit of a wait.
Tip: Take a jacket as it can get quite windy up there, a hat (in case you end up waiting in the sun for too long), and some lunch as there are no restaurants or shops up there. Also, avoid the place completely in July and August, the overwhelming crowds take away the charm.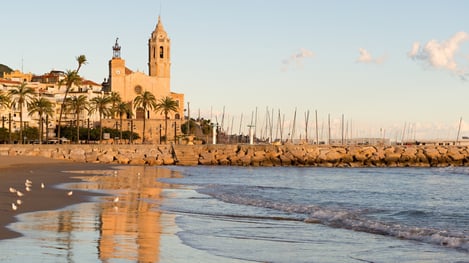 3. Sitges
The picturesque bohemian town is just a short 35 minutes by train from Barcelona city center. It's particularly famous for its exceptionally tolerant and welcoming attitude towards all religions, races and sexual orientations. In fact, Sitges is probably the only town in the whole of Catalonia where the usual Catalan independence flags hanging from the balconies are overpowered by the colorful pride flags.
The delightful tolerant ambiance is not the only "advancement" Sitges has to offer. It's also home to the first Buddhist temple in Catalonia.
On the overall, the town is pretty small, but the views it offers are splendid. Its surroundings are full of geological curiosities and rocky landscapes. If you are in the area, don't miss out on taking a walk in the nearby Garraf National Park which is filled with numerous marked hiking and biking trails. Last but not least, make sure to enjoy tapas and drinks in the many local bars, restaurants, and tavernas.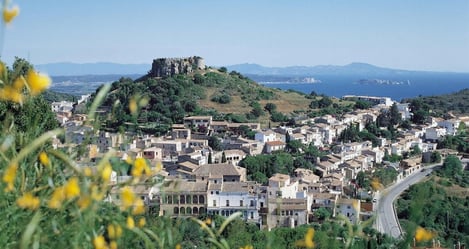 4. Begur
Begur is another charismatic town with a historic city center and an ancient castle overlooking the town with its bay and cove-riddled coast from the hilltop. Rather than an international tourist destination, this place is a summer escape for locals, so you better brush up on your Spanish.
It's not as close to Barcelona as the previous locations, but it's definitely worth the visit. For this trip, it's best to rent a car which will get you there in an hour and a half or take a bus but count on longer travel (2-2:30h).
The town offers quite a few interesting monuments, but our top pick is climbing the hill to the Castell de Begur overlooking the city. Once you have enjoyed the view, come down to the coast and enjoy a sunny day suntanning and swimming in Begur's small coves, pebble beaches, and crystal clear water. Some of the best beaches in Begur include Aiguablava, Aiguafreda, Platja Fonda and Sa Tuna Beach.
Tip: In summer months the beaches get busy, and it's hard to find parking, so make sure to head out as early as possible.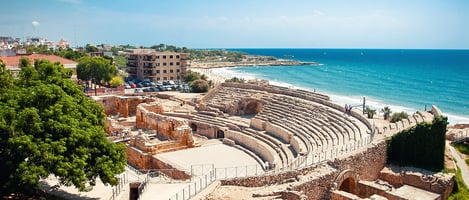 5. Tarragona
Tarragona is another historic jewel you cannot miss on your travel around Barcelona. This town has it all: The history, the beaches, and the food!
Just an hour by train south of Barcelona, Tarragona welcomes you with its antique charm rooted in the many Roman ruins and sites that stand witness to its rich and eventful history. Tárraco (modern-day Tarragona) is a UNESCO World Heritage Site that boasts an incredible amphitheater that overlooks the sea, Roman Circus, Temple (Imperial Cult Complex), provincial Forum and much more proofs of importance and splendor of this city in the Roman era.
Besides its rich history, Tarragona is also known as the 'Golden Coast' thanks to its marvelous 15 km coastline of sandy beaches, hidden coves, blue flag cleanliness and crystal clear waters.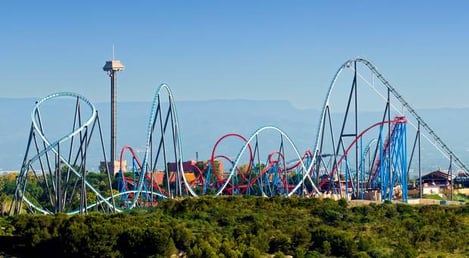 6. PortAventura
If you fancy a break from the beaches, hikes, and sightseeing, it's time for some to unleash your inner child. Just a few minutes further than Tarragona, PortAventura is the premier theme park in Spain. It features five distinct areas: Mediterranean, Polynesia, Mexico, China and American Wild West. Each zone offers food native to its concept which is quite a nice touch.
Anyway, the park is packed with roller coasters, themed and water attractions as well as many exciting shows that are bound to entertain visitors of all ages. If this is your jam, this is a park you cannot miss!
Tips:
Park is open from 10:00 am till midnight, but the Mediterranean area opens 9:30 so you can grab breakfast with the other early birds.

Best days to visit the park are the weekends in low season (avoid going in July, August and bank holidays).

Buy your tickets in advance and make sure to get a discount. Discount flyers can be found all over Barcelona and Tarragona.

Various types of Express tickets (Pulseras Express) are available. They are more expensive but worth it if you can afford it. If not, make sure to hit the biggest attractions between 1-3 pm when the waiting time is shorter as most people are having lunch.

Lockers are available to store your backpacks or bags, so you don't have to carry anything around and risking loosing loosing your phone abroad.

Some attractions are completely hidden in the dense landscape of the park, so don't discard the map. Otherwise, you might never find them.
7. Priorat
Priorat is a magnificent inland region east of Barcelona, just a bit behind Tarragona. It's shaped by steep vineyards, rugged cliffs, and rock faces, riddled with valleys and cool ravines. It's a region filled with flatlands as well as mountains wrinkled with crystal-clear streams and dotted with old towns and villages that survived the harshness of weather and history till present day.
Rather than suggesting you a particular town or village, we recommend you research and discover your own way around Priorat. For example, being home to some of the best Catalan wineries, you can take one of the many suggested wine routes. Also, you can enjoy hiking or cycling in the stunning environment on well-marked trails, visit ancient ruins, wander around old traditional villages, trace the Olive oil route or attend any of the fabulous events and festivals.
No matter what you decide to do, you will not regret!
Anything Else?
Of course, the list could go on and on and on. Catalonia has a lot to offer. However, we believe these are some of the best day trips to enjoy around Barcelona which will help you explore Catalunya more profoundly. If you know about a fabulous day trip we missed, please let us know below in the comments!