While it's fairly easy to determine or at least anticipate the price of your study abroad accommodation, many students forget to consider the bills such as utilities, mobile or the Internet. Factoring these costs in will help you work out a more precise budget and avoid unpleasant surprises.
Below are the average cost of monthly bills in six major European cities: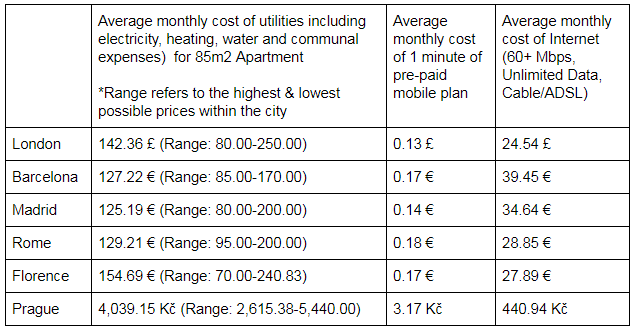 NOTES:
Firstly, please don't panic! The monthly price of utilities refers to 85m2 apartment which usually accommodates three to four inhabitants. So, you will be sharing that price with two or three flatmates!

Secondly, to be more accurate, all prices are in local currencies. So, if you want to convert them to your home currency for better understanding, visit an

online currency converter

.

Thirdly, in regards to mobile call rates, you will be able to call to and from all countries of European Union at the same price. The new EU laws forbid the former high roaming rates and dictate that all providers have to charge the same price per minutes from all EU member states. Thus, when you travel around Europe, you don't have to worry about hyped up fees.

If you are interested to find out more details about average cost of living in these cities such as restaurants, public transport, leisure and so forth, have a look at

NUMBEO

, world's largest database of living conditions and prices.
Want to get the chance to learn about a new culture and live in the heart of a thriving European city? Study Abroad Apartments offers some great options for students planning to live abroad. Just get in touch with us if you need any help finding somewhere to stay and we'll make sure you have one of the best options out there!