Amsterdam is a favoured holiday destination across the world, but only 45 minutes from Schiphol Airport, Rotterdam gets less of the glory and still has all the perks.
How to get around? Do as the Dutch do and go by bicycle. It costs about €9 to hire a bike for the day, letting you experience the city like a local and take in the views as you go.
Delfshaven
What to see? Scheepvaartkwartier and Delfshaven show the Holland of yesteryear with tall townhouses and historic shipping boats paying homage to Rotterdam's long port-city past. However, Rotterdam's futuristic architecture is most striking.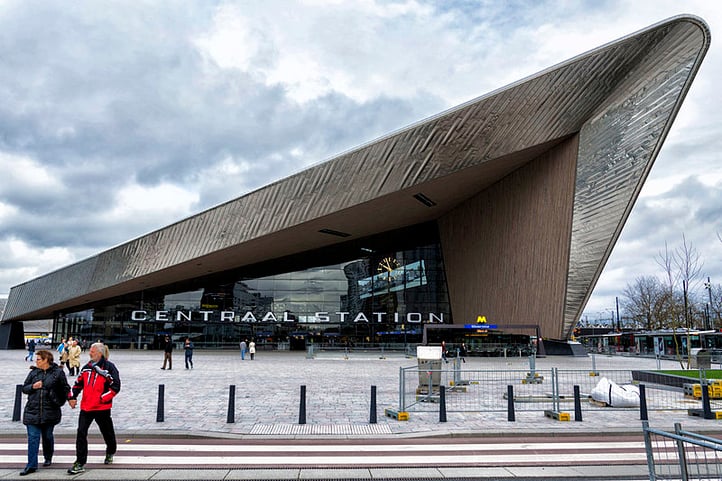 Centraal Station
After extensive bombing in WW2, Rotterdam was rebuilt in new radical styles and holds some world-renowned marvels of modern architecture. You'll pull in to the mesmerising Centraal station. Look out for the Erasmus Bridge and the Euromast Tower, which both have spectacular views over the city too!
The city has an exciting art scene - head to Museumpark and check-out the Witte de With Centre for Contemporary Art or Museum Bojimans Van Beuningen for both modern and classical permanent collections.
Where to eat?
Op Het Dak is a rooftop restaurant and urban garden in central Rotterdam. They serve moreish plates fresh from the rooftop at breakfast, lunch and dinner.
Markthal is an incredible structure and home to tens of food stalls. Buy supplies for the weekend or stop for lunch. It is the perfect place for your first stroopwaffel! Fenix Food Factory offers dishes from across the world in a laidback warehouse setting. One vendor - Jordy's Bakery - sells brownies that are a new dimension of tasty.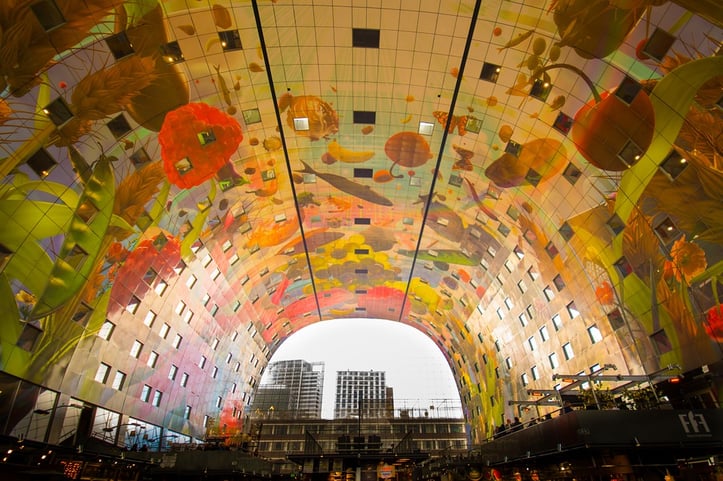 Markthal
Where to Drink? Op Het Dak's rooftop overlooks Biergarten Rotterdam, where you'll find class DJs playing each weekend in the precinct or in the clubs surrounding it. Aloha Bar is a disused adventure swimming pool looking over the Maas. The terrace was once an outdoor pool and you can still see the waterslides coming in and out of the complex as you sip an Aloha Punch at sunset.
Aloha Bar
Want to get the chance to learn about a new culture and live in the heart of a thriving European city? Study Abroad Apartments offers some great options for students planning to live abroad. Just get in touch with us if you need any help finding somewhere to stay and we'll make sure you have one of the best options out there!